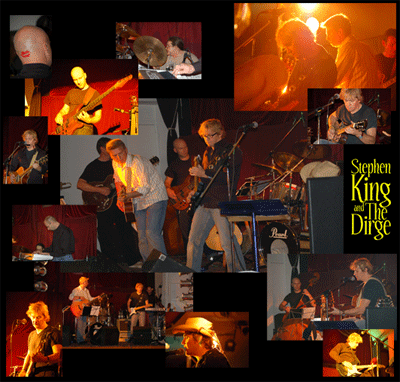 ---
Stephen's BLOG
(also, check out www.myspace.com/opticfrog)
---
Dec 4, 2006 -- Wow! Long time, no chat. Life has been ... interesting (especially tonight for reasons I won't go into) ... lots going on both personally and professionally. And, a bit muscially, too! Got my www.myspace.com/opticfrog finally up and working. I also got a U.S. eCommerce/download and CD distributor in the U.S. ... at www.cdbaby.com ... you'll see me as an artist there in less than a month. CDBaby.com is awesome ... think "iTunes for indie artists." The movie is still going ... my buddy Duff has decided to make a single documentary vs. two ... you'll understand once you see it. SOON! Played two songs at a mexican bar in November ... ole!! Got a solo acoustic coffee-shop gig (tentative) in Seattle end of January. Putting together a new ManRoom studio to record in ... I've got 5 or 6 new songs kinda penned out ... weird, no matter how busy or crazy life gets, I manage to write. Thank GOD!!!! Hope life is taking care of you...
Aug 11, 2006 -- Last night was one o' them musical / magical nights ... first, I spent a couple of hours with Dan O'Rourke shooting a VIDEO for "Good Things" in downtown Toronto (Dan is the videographer and editor of the movie "Hussle Town Part 1" ... see blog entry below for June 15 for a bit more info ... I'll update you on the whole thing once a trailer is available ... this is awesome fun to be involved in this project!). Anyway, afterwards we had some pints, and I ended up playing guitar at a bar, then busking outside a bar, and with some local guy (Derick) who had a drum stashed in the alley. Music never fails to amaze me in how in connects people.
June 24, 2006 -- Had a great jam in Ken's garage ... I haven't jammed in awhile so it was a cool hang. Sam Masterton, an awesome slide player, came out to play (along with Ken, Paul, Jeff, and Art, and another guy who's name escapes me ...sorry!). Sam's recording a slide guitar CD in a church at the beginning of July which should sound really cool.
June 15, 2006 -- An ol' pal-o-mine, Duff, is now a philanthropist ... he's trying to put together resources to help a region in Kenya create their own town. He's making a movie of it ... and I've provided some tunes for the soundtrack. Stay tuned for the trailer. :) Speak of trailers, I should have the one from last year's CD release party soon ... listen to "Met a Man" 4.6MBytes from the concert (Thanks, Marc, for putting the song together).
May 20, 2006 -- Have a laff at my Nephew Shaun King's trailer from his upcoming movie "The Hozer House" on his MySpace.
April 26, 2006 -- Now THIS was fun ... played at my daughter's grade 2 class ... including "Housefly <<Click for video 3.5MBytes>>" and "I had a dog." Played a slide version of "Froggee Went a Courtin'," too, amongst others. All them little critters were singing their hearts out.
April 11, 2006 -- Ok, now I've got CD's in Megatunes in both Edmonton (Whyte Ave) and Calgary (17th Ave SW). Love to Dave. Also ... a shout out to the ladies at the Mettera Hotel on Whyte ... thanks for lettin' me play in the lobby!
April 7, 2006 -- Played for the Intuit Canada head office in Edmonton ... in the cafeteria. Thanks everyone who sang (especially those in the BBQ pit in the back after the gig!). Here's some concert posters.
February 18, 2006 -- Sang 2 songs with Cameron during a 40 minute set at his 40th b'day party in Banff (thanks to Dancin' Peacock) ... cheers to ya, mate!... and ended up playing 2 more nights that week partying at the lounge in the Banff Springs. Yay!
Jan 27, 2006 -- This last month was a blur ... Much love, Brother! Anyhoo ... The Mountainview, California Intuit Friday afternoon social gig happened ... it was way fun. Thanks to George Jaquette who put it together (and we'll get the bar gig next time 'round, George!). Also thanks to the most excellent crowd for yer clappin' and singin' (and hangin' on to the wobbly tables whilst I stood upon them :) ... see ya next time!
Dec 28, 2005 -- Our thoughts and love are with Brother Dave, who underwent surgery earlier this week. Peace and wellness, Brother! Dave is recovering nicely and the next Dirge gig will have one less kidney ...
Dec 20, 2005 -- Coming on Friday, Jan. 27 ... a solo acoustic double-header in Mountainview / Palo Alto, California. In the afternoon, I'll be playing at the Intuit Friday mixer. That's the teaser ... the full solo show will happen at night at a local bar (yet to be named). Stay tuned for details!
Dec 15, 2005 -- Played at the University of Calgary ... private function for the Dean of Business's Faculty Christmas Party. Thanks everyone (and especially Janice!) ... we had losta fun. But, mighta not been the best match between crowd and band. Ya ever see Spinal Tap? The scene where they played at the Marine Base? Yah, that was us. :)
Nov 23, 2005 -- Well, here's a weird one. On my recent Mexico trip, I met a guy named Owen Lee who used to scuba and make movies with Jacques Cousteau. Anyway, he runs a Gilligan_like resort at Las Gatas Beach Club and also takes cruise ship groups on snorkeling tours. One thing led to another and I was playing a lunchtime gig for a group o' them. :)
Nov 11, 2005 -- Finished my first Bio <<download 0.5 MByte lo-res .JPG>>; or <<15MByte hi-res .PDF>> and sent it along with 2 promo CDs to Guitar World magazine in New York. Also, was contacted by a local magazine, Ruby, that just launched. We'll see if either generates any interest whatsoever ... (for the record, I'm having a great deal of fun doing this stuff! :) By the way, last two Thursday night jam's at the ManRoom have been outstanding ... we can't wait to share it with y'all in Calgary, again.
Nov 7, 2005 -- Hey ... my CD is at retail! For those in Calgary, you can now get my "Fields of Yellow" double-CD in Megatunes <<www.megatunes.com>> ... the best indie music source in Alberta, I might add. Gonna get the CDs in the Edmonton Megatunes, too (also gonna try to sort out an in-store concert there).
Nov 5, 2005 -- This was kool ... me and my acoustic opened for a 5 act musical adventure at the MoonTemple in Seattle <<click here for picture>>, playing to almost 1,000 people ;). Thanks to Bob Hayes for putting it together -- stay tuned for more of Bob's productions ... he's got the shit! One awesome moment: in the middle of StarKillers set, chunks of the ceiling fell to the floor during a dusty bass-thundering groove. Rock and roll, babies!!! Got some (dark) videos for ya ... (sorry, other acts ... this is the only video I got):
Oct 20, 2005 -- Played in Vancouver (The Dirge missed Art on keyboards!) at the Intuit annual accountant and bookeeper conference. Had tons o' fun <<click here for picture collage>> ... played 2 cover sets (with a few originals thrown in) for about 2.5 hours. Ummm ... I wanked lots of loud guitar solos. :) Dancin' and singin' was had by the some 250 in attendance!
Sept 27, 2005 -- Shit Dawg, Dudes and Dudettes ... Oct. 8 is NOT gonna happen in Edmonton. We're still going to play up there at some point once we get our schedules sorted out. It's hard juggling the ol' business life with the music life!
Sept 11, 2005 -- I am ecstatic and exhausted! CD release gig last night exceeded expectations ... it was a great intimate night of rawk music and good friends. Thanks to everyone and especially Radya, Keith, Trevor, Troy, Brian, Mark (and a couple others who I didn't officially meet) for doing so much work to make it happen. Thanks to Darcy for the rock photo's above. Click here for a rough live mix of "Met A Man" (5MBytes .MP3) ... still trying to find an Edmonton venue for Oct 8 ... stay tuned!
Sept 4, 2005 -- After B.C. and San Francisco trips, I'm back in town. Big week coming up ... 2 rehearsals and then next Saturday's release party ... current estimates are around 150 people to rock out ... The Dirge are extremely excited. Thanks for all your positive support! CDs are being delivered on Sept. 9 ... ONE day before the gig. Talk about cutting it close (fingers crossed & knock on wood!).
August 16, 2005 -- Final approval of CD's and artwork happened last night, so, YES, we will have CDs at the release parties! Also, finished the artwork for the "DirgeGrrrls" T-shirts, hopefully have them back by the 5th of Sept so y'all can wear 'em (u know who u are!). Oh, yah, I meant to mention, "Complicated Friends" (disc 1 of Fields of Yellow) was played on CKJA radio on Vancouver Island!
August 11, 2005 -- Took my new CDs into Guitarworks on 16th Ave NW ... great guys. They put it on and I was shopping for guitars while the CD played. That was cool. :) Also, had an awesome jam tonight. The whole Dirge came out ... and are having a GREAT time with the songs. Here's a pic of us outside the ManRoom ... Dave had already left so I pasted him in as a glowing, disembodied head. :) We're not playing again until the week of the Sept. 10 gig, so we're having a rest and then we'll kick it up again! By the way, in the email I sent out, I mentioned that the Edmonton gig is Sept 8 ... no, no, no ... that's a typo ... it's OCT. 8. We've got 42 people already signed up for the Sept 10 Calgary party!
August 7, 2005 -- *phew* ... been a busy camper. Played solo at a rooftop BBQ in Seattle last weekend that was very cool -- awesome view of the sun setting on downtown Seattle, I might add. Also, we got a venue booked for the Sept 10 release party! Yay! It's at Quincy's in downtown Calgary. Last but not least, I FINISHED the CDs! They go to press tomorrow! Which is a good thing, 'cause it'd be hard to have a CD release party with no CDs in hand. :)
July 26, 2005 -- Most outstanding jam tonight in the ManRoom (the studio in my garage). The Dirge consists of myself, Brother Dave King, Jeff Goguen, Paul Bellavie, Art Theissen and Nathan Krentz. Tonight Art and Nathan weren't there ... each time I seem to play these songs with different combinations of musicians, so it's cool to hear the sound morphing around from jam to jam.
July 22, 2005 -- Played an awesome gig at the "Miller Barn Summer Jam" at Clear Lake near Wainwright (soon to be an annual party known as "LakeStock" :). A trio: Brother Dave on Bass, Mike Frissell on skins (local Wainwright feller) and me on guitar. Played for about 3 hours; an electric set <<video; .MPG, 0:53 minutes, 9MBytes>> and an acoustic set <<video; .MPG, 1:20 minutes, 13.7MBytes>> (that's Gary Miller in the cowboy hat ... he and his wife Bonnie were the hosts of the fine event!). Had a blast ... we'll be back next summer!
July 12, 2005 -- Picked dates for the CD release parties; still need to pick venues. Yikes, better get the artwork done on the CDs!
July 8, 2005 -- Finalized the music post-production of the new CDs: Fields of Yellow (double-CD) and Echo2 (instrumental).
Visitors to www.opticfrog.com: