A living testimonial to my Brother Dave
(You may have to "unblock content" / "pop-up" in Internet Explorer to watch the video.)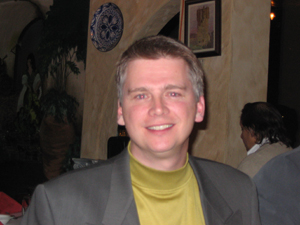 David Leslie King beloved husband of Linda of Calgary, passed away peacefully at the Chinook Hospice on Friday, January 12, 2007 at the age of 45 years after a year long battle with kidney cancer.
David was born in Germany on June 14, 1961 and moved to Canada in 1963 where he spent his early years in Eastern Canada, moving to Alberta following grade three. He had an enthusiasm that inspired all those who met him, living a life of passions, especially enjoying the great outdoors (fishing, camping, golfing, skiing, and triathlons), music (playing guitar), and his friends and beautiful family.
He held a variety of jobs, working as a hardware store manager in Wainwright, an insurance and car salesman in Red Deer, AB, before joining the Grande Prairie city as a property assessor. His last years were spent in Calgary, excelling as a land agent. David's playful laugh and soulful manner will be sorely missed by many. We Love You!!!
David is survived by his one and only love and wife of twenty-three years Linda; his children, Shaun, Jaden and Danai; parents Ronald and Marilyn King of Wainwright; brothers, Michael of Wainwright and Stephen of Calgary; as well as numerous other in-laws, nieces, nephews and friends.
He will always be our angel looking out for us, believing in us and giving us strength.
David's Obituary <click here>
on www.mcinnisandholloway.com .
In lieu of flowers ... donations
If you would like to make a donation in addition to / instead of David King's Kid's Education Fund, here are our suggestions. With great gratitude to all the workers in the health care industry ... In lieu of flowers, memorial tributes may be made directly to:
Calgary Health Trust (Palliative Home Team).

Make cheque payable to:
Calgary Health Trust
Mail the cheque to:
Attention: Palliative Home Team, 800-11012 Macleod Trail S.E., Calgary, AB., T2J 6A5.
Or, call their donation hotline: (403) 943-0615

Intercare Chinook Hospice. You can bring them some items from their "wish list," or give money as a "Gift in Kind" for an item from the wish list

Make cheque payable to:
Foundation for Seniors Care Hearts of Excellence.
Specify on the Cheque "Gift in Kind for:" and then write down one of the following:

Furniture (cots, broda chairs, small corner tables for pictures and flowers, lamps, book shelves, pictures)
Stain glass windows
Furnishings for chapel
Medical equipment (blood glucose monitor, weight scales, bladder scanner, O2 sat machine)
A/V equipment (vcr, children's DVDs, children's play table, X-Box, X-Box and PlayStation I video games)
Kitchen (Thermal water jugs, China, plates, silverware)
Storage Shed (Remember ... you can also drop off one of the actual items)

Mail your cheque to: Chinook Care Centre,1261 Glenmore Trail SW Calgary, Alberta T2V 4Y8
Questions? Call them: (403)258-0040.
In living memory of David King, a tree will be planted at Fish Creek Provincial Park by McINNIS & HOLLOWAY FUNERAL HOMES, Fish Creek Chapel, 14441 BANNISTER ROAD S.E. Telephone: (403) 256-9575.